With App Store Optimization more than 1.96 million apps are available on Apple Store, and 2.56 million apps are available on Google Play Store for download, so getting your app discovered is one of the biggest difficulties facing mobile app developers today. This is an enormous number, especially if you are an app developer trying to get your app known by many people. However, you need to understand and use the advantage of ASO to stand out among the millions of apps. Here we understand the importance of App Store Optimization (ASO) exactly, but before we dive into the App Store Optimization, let's understand what it is actually?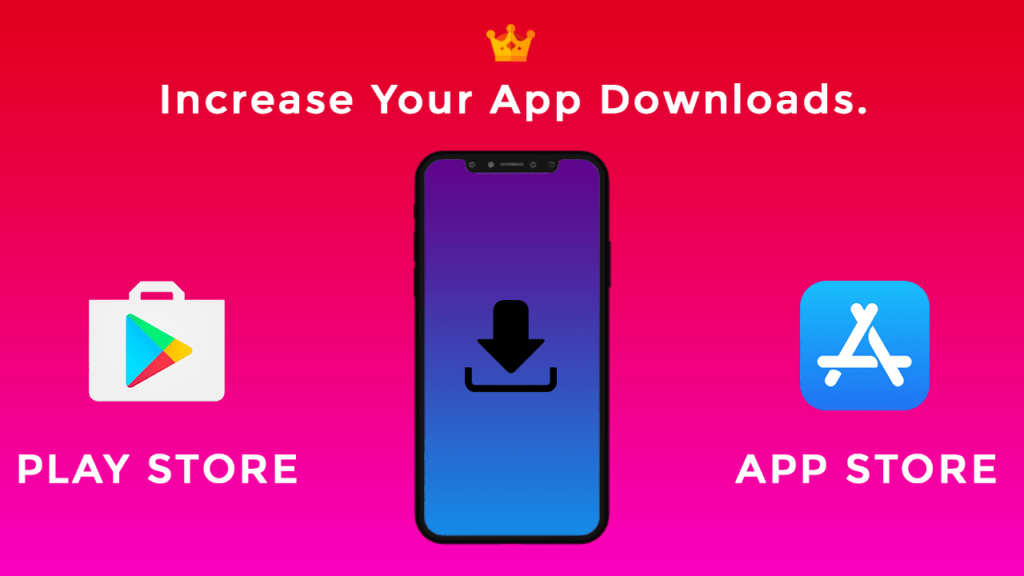 What is App Store Optimization (ASO)?
With ASO marketing how do you stand out in a place where you have a lot of competitors? The key is using App Store Optimization (ASO) strategies carefully. App Store Optimization (ASO), is the process of improving app visibility in app stores. In this way, your app is more often found by users, and the number of downloads increases. App Store Optimization (ASO) also helps bring free organic downloads from users looking at the app store by searching for specific words.
Even if you have a lot of money to spend on ads, App Store Optimization (ASO) brings you, users, in an organic way. The increased downloads and users turn into high quality users later; they downloaded your app because they were looking for it. This shows an existent need or interest, so instead of coming from ads, they see and download the app with their own interest.
Why is ASO important?
As we said before, there are more than 2 million apps in the Google Play Store and 1.96 million on Apple Store. There are a few things you need to do to stand your app out among all these apps. You cannot ignore App Store Optimization (ASO) because it can help your app increase the conversation rate, and grow organically, so your app can stand out from the others. ASO may come similar to the SEO to you, it is right, but there are some differences between them that you need to know about it to accelerate your app's performance.
Differences Between SEO and ASO?
Keyword choices are very important in SEO and ASO, but some aspects of ASO are different from SEO. We will highlight these to understand SEO and ASO better.
1. Making Searches
When a user is making the same search in the app store and search engine, they will display different results.
2. Search Semantics Differ
There is a distinction between the app store and web browser usage. When making searches on the app store or the web, we know that even if the user is the same, its intent is different.
3. Trends in the App Store and Web Search
The trends in web search and in-app search are used to optimize results for the user. Thus, the trends in both app store and web search are generally different. For example, in the app store, the trends are related to ranking factors such as frequency of use, installs, and data from the last week.
Which one is better? SEO or ASO?
Both of them are important for stand out your app among the others. Thus, we cannot answer this question because it depends on what you want to reach. Let's look at the similarities and differences between them to understand clearly.
Similarities
Both place great emphasis on the relevance of the results to the query. As a result of this, we can understand keywords are very important for both ASO and SEO.
Both are based on organic search queries and traffic made by users.
Differences
SEO is about ranking a website or just content on a search engine, but App Store Optimization (ASO) is about ranking an app in the app store. This is the main difference between them, and so the result you will get from both SEO and ASO will be different.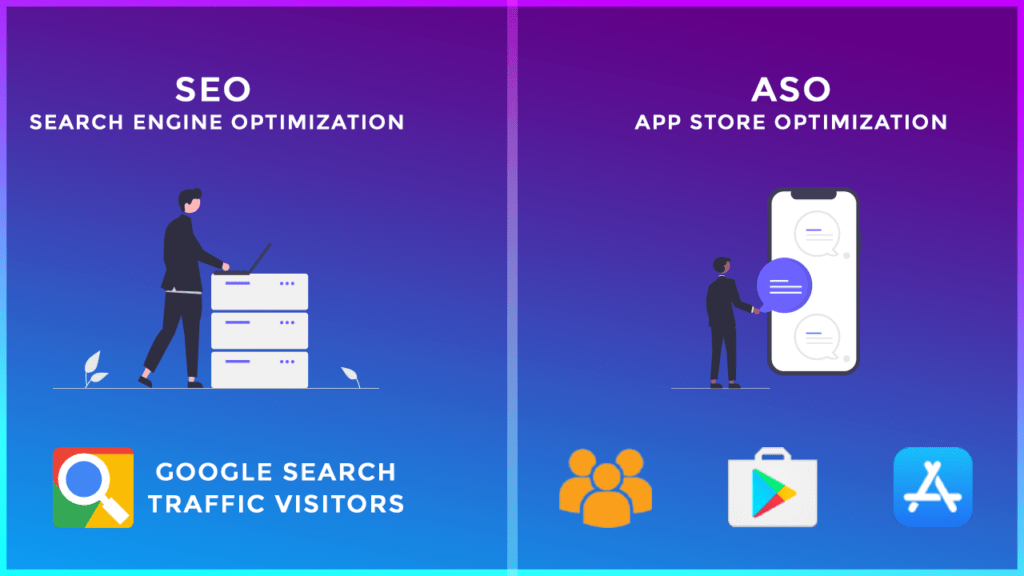 App Store Optimization Strategies
The fastest and most affordable way to help your mobile app rank highly in the app store is to use App Store Optimization (ASO) strategies.
1. Pick a Descriptive Title
Picking a descriptive title with the right keyword is the most important element of App Store Optimization. It helps identify your app, also improves your rankings. App Store gives you 255 characters for the title. Make sure your title is descriptive, unique, and keyword-rich.
2. Create Attractive Icon
Undoubtedly we knot that logos have at least as many effects as the name of the app. A creative icon should attract users at first glance and create unique icons to stand out from the crowd. Be easy to recognize, memorable, and communicate your app's essence starting with what's important.
3. Use Interesting Keywords
Like in SEO, keywords play an important role in App Store Optimization (ASO). As you did in the title, you should use interesting keywords to stand out. App Store gives you only 100 characters, so you need to carefully choose and try to fill all of it.
4. Describe the App Well
The app description is one of the first places that users look at it. If you have brought the potential buyer of your app with your icon, title, and more, your app's description gets attention too. This strategy should be viewed as a crucial part of your App Store Optimization process.
Describe your app by thinking these questions;
Why people buy your app?
What does your app do?
What kind of convenience will your app bring to its users?
Pay extra attention to the keywords for your App Store description because you have to be persuasive and attract users.
5. Choose the Right Category
Placing your app in the appropriate category is helpful for users. Especially if they are browsing apps by category, the chance of coinciding with your app is increasing. Be careful what you are choosing, and do not choose the wrong category without thinking.
If your app fits into more than one category, there are a few ways to solve this problem;
a. First, you should pick the category that describes your mobile app in the best way.
b. Next, look at how many apps are in each category, and if you choose the least competitive category, your app gets a better chance of ranking.
c. Lastly, look at the app worth at the top of the app of those categories, and put your app in the one with the lower numbers.
Apple reviews all the apps before publishing them; if you add your app to the wrong category, you will probably get a rejection.
Google Play users can report the apps if they see a major error like the Sports app in the Book category.
6. Add App Preview Video
Besides the photos, you must also upload a video introducing the app to give users a better insight. Apple Store allows you to upload 30 second long videos. There are no length restrictions on the Google Play store, but we recommend keeping the video between 30 seconds and 2 minutes long.
7. Put High Quality Screenshots of App
People spend just 7 seconds deciding if they download an app or not. The look of your app store page plays a crucial factor in the users' decision. It would be best to use high-quality screenshots of your app to impress people in a good way. This will be one of the biggest factors that attract people's interest.
8. Get Positive Reviews and Ratings
Positive reviews and ratings have a huge impact on your App Store Optimization (ASO) efforts. The reviews will show your app's high quality, but they need to write honest reviews. You can encourage users through multiple words to leave a review of your app on the Google Play or App Store, or you can send a notification to encourage users to write a comment about your app.
If a user is using your app often, the chances of getting a positive review increase, so send the notification after a certain number of times the app has opened.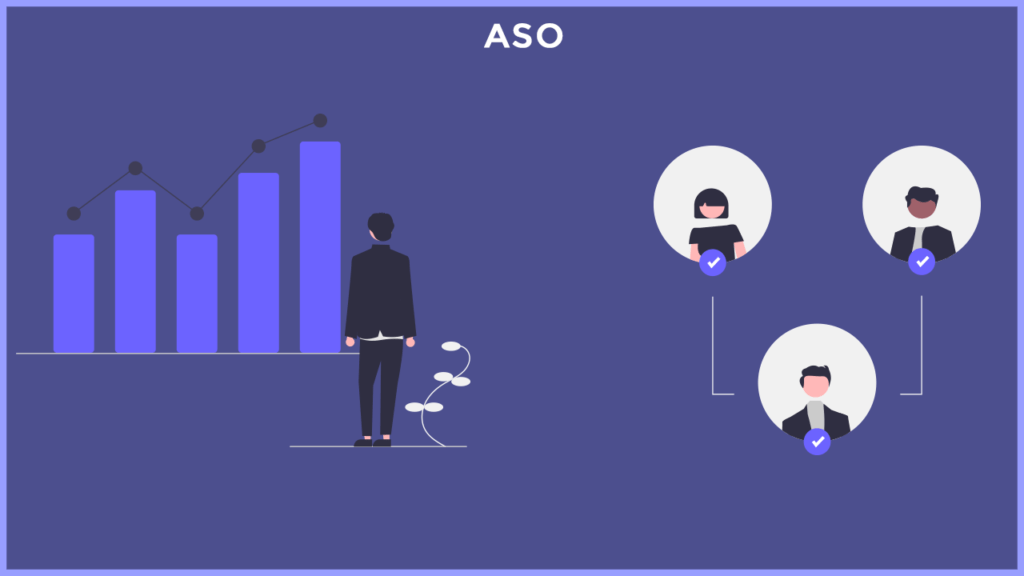 9. Revise the App Frequently
Even after a few weeks, if your app's ranking is not pleased you, you can check your data, change some things around, and make some assessments.
10. Use App Store Analytics
There are a lot of app store analytics tools to help your mobile marketing strategy. If you want to get help from the analytics tools, we can recommend a few apps for you.
The Advantages of App Store Optimization
If you have not already been convinced that you need to spend more time on your App Store Optimization (ASO) strategy, these advantages will be enough to change your mind.
Organic Installs
Organic install is one of the best things about ASO. With great strategy, your organic installs will increase without a cost.
Increased Revenue
The App Store Optimization (ASO) will benefit you with increased revenue from all the extra downloads you are receiving.
Stable App Future
The extra downloads and increased revenue provide your app with a stable future.
General Thoughts on ASO
Having an app can put you in a better position in your business, but App Store Optimization (ASO) takes time and effort to show its results in the best way. After making all of these tips and recommendations, we are sure that you will achieve success. Check out our recommendations thoroughly, and if you want to take a look at our other guides, visit the home page.