For the highest conversions, you need to set Google ad settings. Also, as long as it is not done, you have the potential to cause high rates of loss. To prevent this, you need to set up a Google ad setting. You will have dozens of advantages for this, and thanks to these advantages, you will be able to get high conversions for both your web and your application.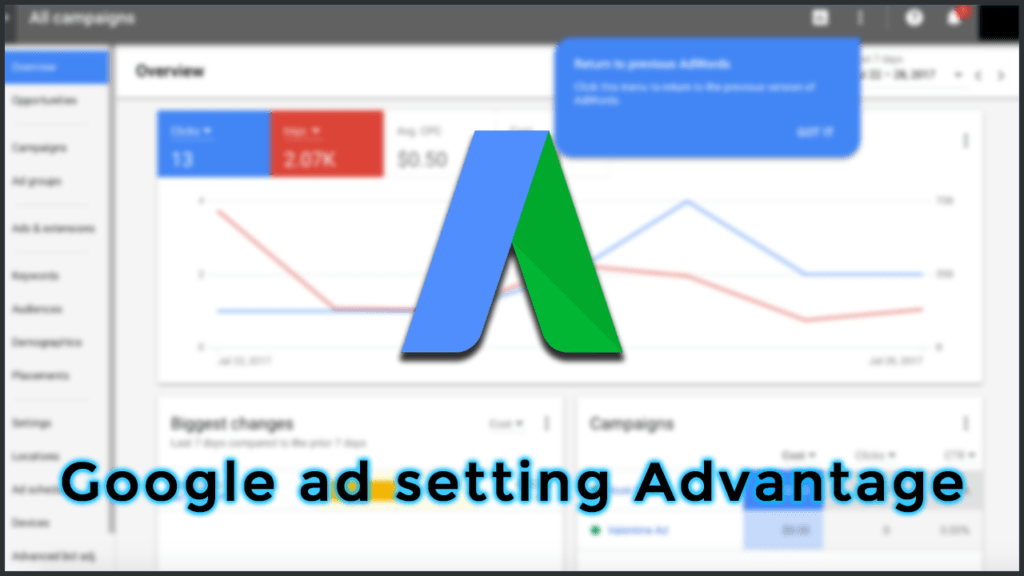 Google ad setting advantages:
It does not end with counting the advantages of this. If you don't set your Google AdWords setting, you have the potential to get significantly lower conversions. If you are new to this business, I highly recommend creating a new test campaign. With the new campaign, it is possible to get successful tests with new ad settings. The main basis of Google AdWords ad settings is to create an advertising campaign for what purpose. For that, let's learn about the top-priority Google ad setting benefits:
You get high conversions.
Detailed analysis reports.
You can fix errors as a result of a detailed report analysis.
Costs per click are reduced, and a regular daily budget is spent.
You will attract more attention than your opponent. This puts you at the forefront.
In some cases, unnecessary impressions will increase unless the ad setting is made.
One of the advantages of Google ad setting, impression decreases, and conversions increase.
With these examples we have given, if optimization is done in detail with Google Adwords setting, you will be able to achieve that sensitive issue that everyone pays attention to, that is, conversions by providing a good return.
How to Make AdWords Ad Settings?

For this, let's examine the photo above. As you can see in the photo, excellent analysis resulting from 90% optimization and ad settings. If you want to encounter such perfect analysis, do not neglect AdWords ad settings and additional ad optimization. Also "How is Ad Optimization done?" You can review our content.
Before we start with the ad settings, it is necessary to think about ad optimizations. Ad settings are actually an element that anyone can do and ask for information. It is very difficult to get high conversions just because you have made ad settings. As I always say, ad optimization should definitely be done after ad settings. Unless AdWords ad optimization is done, you will get significantly fewer conversions, which is less likely to make a profit compared to your budget.
AdWords ad settings: Getting Started
Before starting, you need to determine your target campaign, do the necessary keyword analysis and finally prepare your text files (txt). Right after that, we click 'New Campaign' on the AdWords homepage and create our new campaign.
We choose the target ad unit right after you try to create a new campaign. So is it a website, an app or a game, and finally a youtube video? Here you choose one based on your target ad unit. In general, AdWords users choose the target ad unit in the 3rd part of 'Website traffic' in the first place. If you are using AdWords for the first time and you have a website, you can immediately select this option and move on to the next option. In addition, if you have an application or game, we select the Application promotion option below, complete our first process and proceed to the next operations and start the ad settings.
When we create a campaign, it immediately requests a name from us. This name will definitely not affect your campaign and your campaign settings (+ conversions). You will be asked to enter a website address immediately after entering the campaign name. If this is your first time setting up a campaign, your first priority will be to enter a low budget. If you have advanced knowledge, you may need to do keyword analysis, text analysis, and ad optimization depending on the website content. You can check the "Google Adwords" category for this.