In this article, we will talk about Google Ads Management. Beginner knowledge of Google Adwords will be sufficient. As you know, we encounter some problems as we create a New Account. For this, we will need Management knowledge. If a wrong campaign is created and most importantly is not optimized, you will get significantly low conversions unless you manage Google Ads.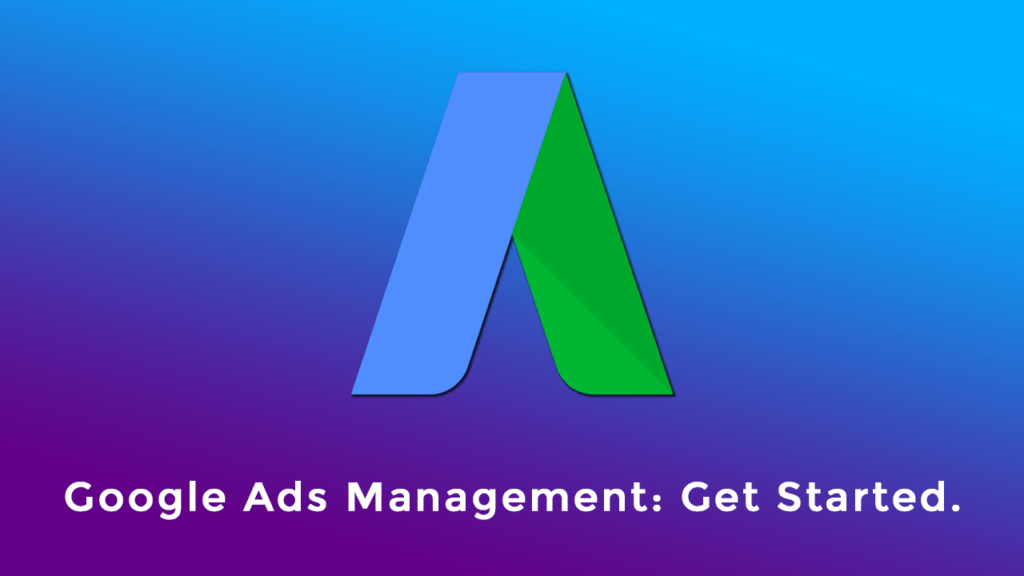 As newbies, we wouldn't get even 50% conversions when we created the first campaign. For this, it is necessary to analyze text optimization, campaign optimization, and conversions well. You may need to choose the target keyword very well. Also, if your target keyword is highly competitive and most importantly has high CPA values, you will need a serious amount of optimization and ad management.
You can also review this topic to get the best conversion for the App. Firebase optimization needs to be addressed in order to achieve 100% conversion for the app and game. This is what application optimization is all about. We can also do negative keyword optimization and text optimization.
What is Google Ad Manager?
Google Ad Management For this, the first priority is to create a test campaign. We can start using 10% of your balance as a budget. You need to know your target audience well, and you may need to Google Ads Management definitely check the competition before analyzing competitor sites. If the competition level is high when an advertisement is requested through the keyword "xxx" on the keyword planner, even the advertising campaign we will open for test purposes may not be published with difficulty.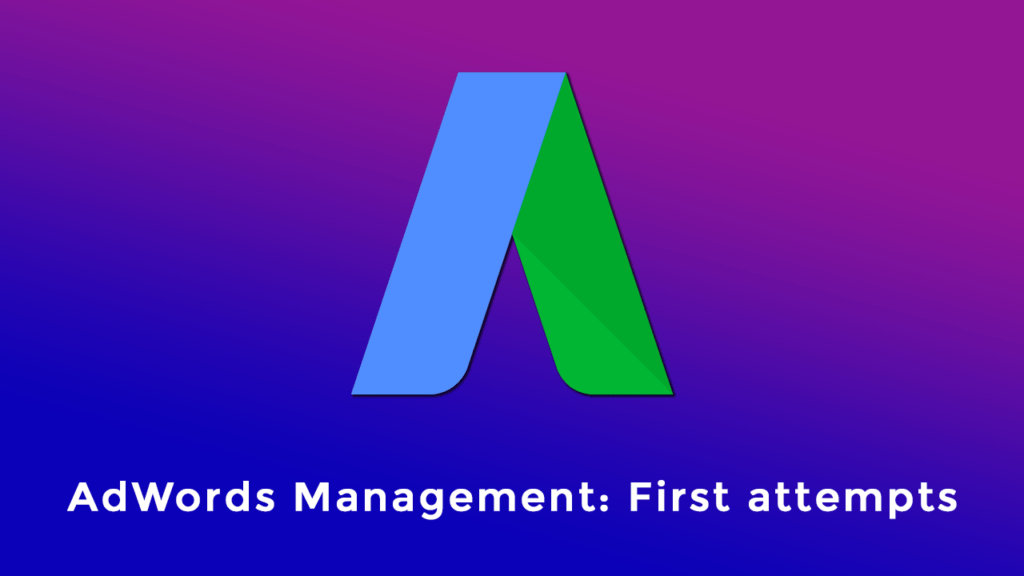 It is necessary to use the Keyword planner well for AdWords ad management. If the highest CPA values are $ 50, it means you pay $50 per single click. If optimization and ad management happen with the wrong levels, you can lose your money at high rates.
You can choose a different platform for this. For example, if you have an e-commerce site, Facebook Ads may be suitable for you. Sometimes there is little competition on Facebook. It should not be forgotten that optimization is essential for this. Before starting ad management, you should definitely choose your keywords well.
Google Ads Management: Keyword Planner
Keyword planner is our first priority in this regard. If you can't find any keywords, we can start exploring new keywords from Adwords> Tools & Settings> Keyword Planner. As you can see in the photo below, we can open the keyword planner immediately. Also, let's not forget that there are 2 options. For this, make sure that your AdWords account is active in expert mode. For AdWords Ad management: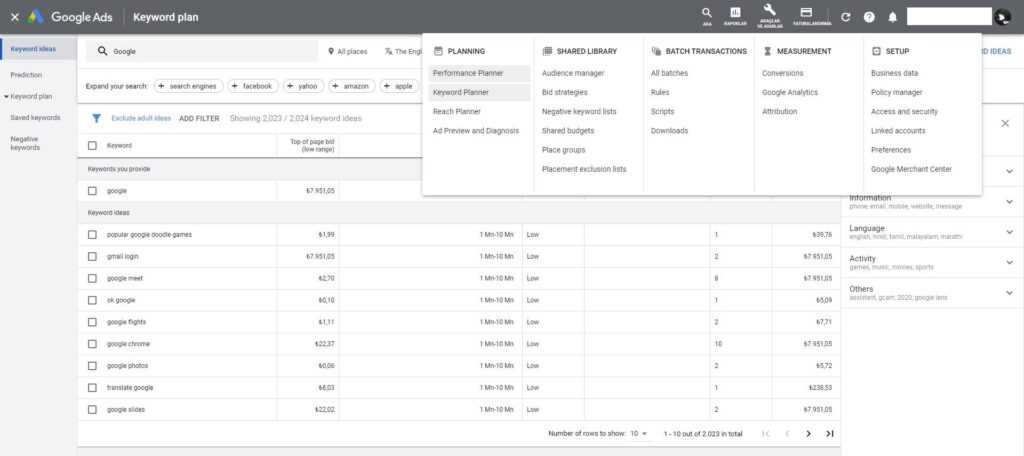 You can start finding keywords with your Google AdWords Manager ad account in this tab. If you have found a keyword before, it is a good idea to review your keyword phrases again. In some situations, competition can increase in a moment. Thanks to this, you will be able to manage your Google Adwords advertising campaigns.
Google Ads Management, If you are having difficulty finding keywords for ad management, it will be sufficient to enter any word depending on your site content. You will see 'related' keywords at the bottom of the word you entered.
You need to examine in detail the sample keywords you will encounter through the AdWords manager account. If you are planning to perform optimization and ad management on a wrong keyword, you need to examine it depending on the target keyword and add your site content. It is known that seriously low conversions are obtained as a result of incorrectly entered keywords. This can even result in losing your money. For this, you need to choose the sample keywords that you will get from the AdWords word planner.
Learning keyword details

We can learn about targeting in detail when we enter your first keywords. We can also see detailed CPA(+EBM) values at the beginning of the page and at the end of the page. Remember that it is absolutely essential for you to do and learn for Google Ads management.
1. Keyword:
This section usually includes your keywords and similar keywords you entered. Also, as I said, if you have difficulty finding target keywords for AdWords ad management, depending on your site content, you will see similar keywords instantly when you enter a single-sentence keyword.
2. Top of page bid (low range):
This is the lowest ad bid based on your keyword. For example, if you do not want it to come out first, you need to check these values. You can see instant and current figures depending on the keyword you entered. If your budget is limited, you can review the AdWords word planner low range section.
3. Cover. Monthly searches:
This part is very important, it usually ranges from 0-100 / 100-1K / 1K-10K / 10K-100K and finally 100K-1M. The point you need to pay attention to here is that the search volume may need to be at least 5K and above for ad management. In some cases, if the monthly search volume is low, the ad may not be displayed. For google ads management, you may experience problems. If the ad impression is low, you may need to create a new ad campaign. Google Ads Management you have to see this as a must.
4. Competition:
The real problem is where it was shot. Depending on the keyword you entered, you need to analyze the keyword competition for your ad campaigns well. If you look at the competition side and the competition seems to below, this may be a good opportunity for you. If the competition seems to be high, you may need to increase your budget a little. You need to pay attention to such situations. For better optimization, you need to use low competition keywords for better ad management.
By following the competition part, it shows whether or not that keyword will get a low search volume when you make a search ad. With the search console, the ads link is not very useful in that part, you can see a value there in words with high search volume.
5. Top Bidding (high range):
We came to the last part! Depending on your keyword, you need to pay close attention to this part for AdWord's detailed ad management. Depending on your keyword, Top Bidding (high range) is constantly changing. If the competition is high, the upper bid portion demands high fees. Of course, if it's low, it might be appropriate depending on the situation and your budget. For this reason, as I always say, you need to pay attention to your budget. If the competition is high, you should definitely keep in mind that the high range portion may change constantly. If you want your AdWords ad campaigns to appear on the first page and in the first place, depending on your reviews and keywords, you can enter the CPC values immediately during the ad campaign creation.
Not: You can check out our other article on Google Ad Manager and Google Adwords. Thanks to these two articles, you will be able to have intermediate knowledge about Google Ads Management.
Link: Ads Management
For Apps Google Ads Management
For Apps Google Ads Management For applications, you need Google Ads Management software and firebase knowledge. According to the known, the advertising management offered for the application and the game is of great interest. Thanks to Firebase, it is now possible to create an in-app action-oriented target advertising campaign, depending on your request. Thanks to this, it is also possible to achieve significant conversions. You may need intermediate knowledge for Google Firebase. If you do not intend to use firebase, you will get important information about how to create a detailed application advertisement by examining your position.
Free advertising with Google Ad Management.
Thanks to Google Ad Management, you will have intermediate knowledge as well as you will double your earnings and conversions with Google Ad management thanks to the free promo codes offered by Google. Also, if you intend to progress in this business at the beginning level, you will be able to advertise for free with AdWords thanks to the Free promo code. You can use it for free as it is associated with ad management.
For this, you can take a look at our article on the free promotion code * for Google Ad Management on our website. Do not forget that you can create and publish a test campaign with the promotional code for ad management. This will be a very positive return for you.
To run a free campaign with Google Ad Management: Google Ads Management Promo Code

google ads management
Other (expert)
With Google ad management, you may need to consult with an expert for more detailed information. You may be highly harmful as a result of incorrect advertisements. You definitely need to be sensitive about this. When a campaign without optimization and ad management is created, you are at high losses. I suggest you try this on a test campaign only. During the new campaign, do not enter your entire budget in the daily budget section. You may definitely need to consult a specialist.