When you make a mobile application, you can add the ads you want to add to it through certain ad networks. These are Admob and Unity Ads. These are the two most used and most known applications, and our recommendation will be Admob or Unity Ads for you.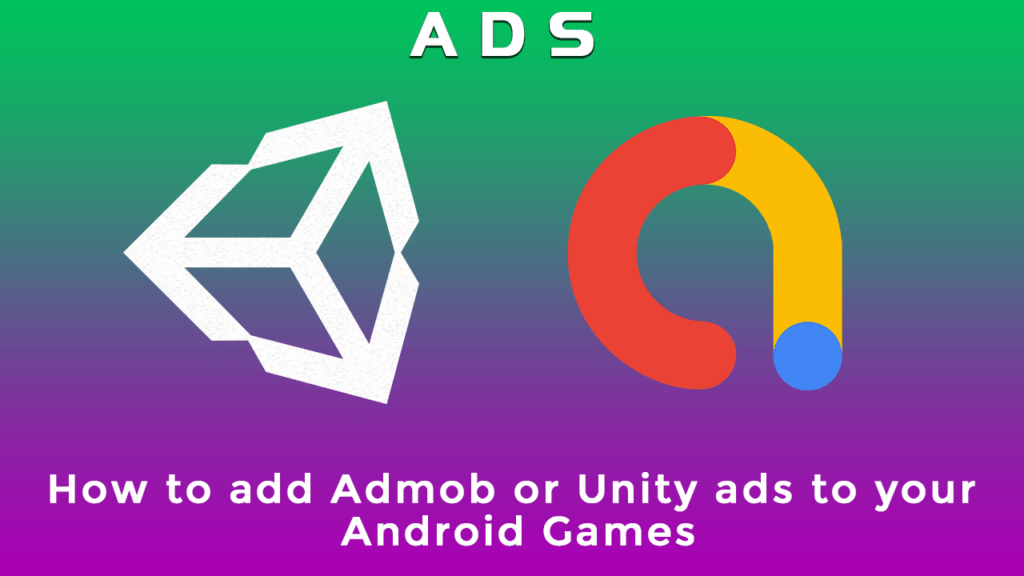 In this article, we will tell you what these are and how you can add these advertising tools to your games.
You can monetize your Android games with just a few steps. Which of your ads should you use first for this? Which service to use is the first decision you have to make. In this regard, Google's Admob ads are the most preferred advertising service worldwide. UnityAds, which belongs to Unity. Of course, both have some advantages over each other.
Admob or Unity Ads

Since UnityAds is a Unity service, using UnityAds in your application is quite simple. To use it, just write a few codes and log in. On the other hand, to use Admob, you can add an SDK published by google to your application and start using it later. Of course, you have to write code for Admob or Unity Ads.
What is Admob?
AdMob is an advertising service that enables mobile app developers to earn income. This platform allows you to receive ads on your mobile app and earn money in this way. It is different from other Google ad service providers. Using AdMob, app developers can promote their apps with in-app ads and monetize their apps by enabling in-app advertising. It also provides analytics for your ads, thanks to the Google Analytics it provides.
There are no restrictions such as minimal traffic to apps or a specific language requirement, but restrictions such as pornography, violence, racism, profanity, hacking, illegal drugs, drugs, the sale of beer, or hard alcohol. Since there are differences in earnings, everyone thinks about which Admob or Unity Ads should be used.
What is Unity Ads service?
Unity Ads is one of the popular advertising services for mobile application developers. You can earn money from your application by offering banners, interstitials, and video ads in your application. You can also use Unity Ads and Admob simultaneously, thanks to the hyperlink provided by Google.
With Unity, when you start to earn from the ads you add to your application, you can see these earnings as a report on your panel, and you can examine them with graphs such as rising or falling.

Adding Admob to Android games
To add ads with AdMob to our mobile game developed with Unity, you must first have an AdMob membership.
Admob.com, you can easily open a membership with your Gmail account from this site.

After opening your membership, you can create a new application directly from AdMob. You will associate the application we will create here with the Mobile Game you developed with Unity.
After you have opened your membership and added your game, you need to download the AdMob Package; You can download https://developers.google.com/admob/unity/quick-start/admob/unity/start from this site by clicking the DOWNLOAD THE PLUGIN button. The file you need to download is GoogleMobileAds.unity package.

You can import this package by clicking Assets in the Unity application, then clicking import package, then custom package. After pressing the Custom Package, we find and select the file named GoogleMobileAds.unity package that we downloaded. After selecting it, we press import from the window.
You need to add your Admob ID.
Before loading the ads, have your app launch the Mobile Ads SDK by calling MobileAds.Initialize ( ). This should only be done once, ideally while the application is started.

If you're using mediation, you may want to wait until the callback occurs before installing Admob or Unity Ads ads, as this will allow all mediation adapters to start. After that, all you have to do is choose how your ads will look and upload them.
Admob vs. Unity Ads
There is no traffic requirement for the two services, as is the case with websites. You can add Admob or Unity Ads regardless of the number of users of your app.
Admob is a service published by google and depends on the AdSense service. Google takes 32% of the Earnings as commission and gives you the remaining 68%. No commission rates are specified for Unity Ads.
Thanks to the advanced tools it contains, Google Admob can include any of the ad networks here in your application. Among these ad networks, there is the Unity Ads network. In this way, you can use both services together without having to choose.
Banner, Interstitial, and Rewarded ads are available in Admob or Unity Ads. Admob stands out in your Android game and offers native enhanced ads.
Admob gives a very high amount of guarantee money, even for the screening alone. But according to interaction, the income is a little low. However, even if the unity ad is low per impression, it gives a higher revenue when there is an ad interaction. Here you have to take action according to the interaction of your ads with users. In other words, if the people who use your application are only viewing the ads, the indisputable AdMob will earn more. However, if your users show interest in these ads and engage in various interactions, Unity is my recommendation. You can use Unity Ads if you shouldn't use Admob.
Admob or Unity Ads: Which One Should I Prefer?
If there are no restrictions on your Admob account, use the mediation and use both together. It is an outstanding feature that you can use both Admob or Unity Ads together. If there is a restriction, you can easily use Unity Ads. It is not much different from Admob. As we mentioned, Admob provides an extra redundancy as it allows for native ads.
Both platforms are pretty good in their own right. Both are recommended for their usage. Admob or Unity Ads are very good practices. We can easily recommend both for you to gain with the applications. If you want to learn more about such topics, you can visit our site. How can I create my own game? and How to Bu Unity Pro these are our recommendations if you have not read our articles.