Who Owns Unreal Engine? We will inform you about the Unreal Engine 5 developers and owners. Along with the popular game engine Unreal Engine, it has become possible to develop games with advanced graphics focused on PC, Android, and IOS. With the Unreal Engine Marketplace system, you can develop your projects in Real-Time.
What is Unreal Engine?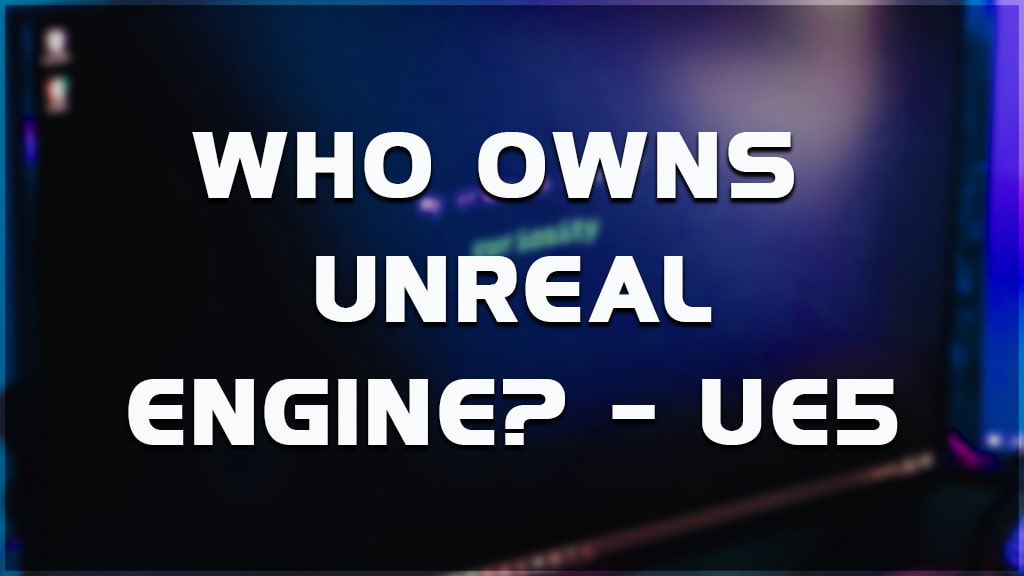 What is Unreal Engine? Unreal Engine is a popular and widely used game engine developed by Epic Games. It's used in many modern AAA games like Epic Fortnite's own multiplayer game, other hit games like Psyonix "Rocket League" and other big hit games, and used in games developed in studios.
offers game development capabilities for consoles and builds, from PC to PS4, Xbox One, and Nintendo Switch. These platforms also include IOS and Android apps and games. The flexibility of the Unreal engine to work across different platforms is very popular in the market, which is one reason to use it.
More experienced programmers can use the C++ language in the game engine to create their scripts. Even if your coding is not enough, you can also use the very powerful Blueprint interface, which are precoded code blocks that you can add to your objects to create interactions in games and applications. Thanks to the Unreal Engine Software Developer team, the possibility of Source Code has become unlimited. You can add additional packages to the projects that you develop in October with Unreal Engine Marketplace.
Who is the Unreal Engine Owner and Developer?
Unreal Engine was developed by Epic Games in conjunction with early access to Unreal Engine. Unreal Engine is developed by Epic Games and owned by Tim Sweeney. Unreal Engine was developed in C++ and released for free starting in 1998.
Owner: Tim Sweeney
Developer Company: Epic Games
Software Language Used: C++
The Most Recently Developed Unreal Engine Version: Unreal Engine 5
Unreal Engine is a game development engine developed by Epic Games Developer and first used in the first-person shooter game Unreal, first published in 1998. We can briefly find out the owner of Unreal Engine 4 and Unreal Engine 5 with the following table;
| | |
| --- | --- |
| Idea | Tim Sweeney |
| Developers Team | Epic Games |
| Type | Game Development Engine |
| Initial Release Date | 1998 |
| Language | C++ |
| Latest Version | Unreal Engine 5 |
Who Owns Unreal Engine and what are its other details?
Also, the latest Unreal Engine 5 version is about to be released! Find frequently asked questions right here: FAQ on Unreal Engine 5 [2021-Current]
Should I prefer Unreal Engine 5?
Unreal Engine 5 may attract your attention now that you have learned about the Unreal Engine's developer team, idea owner, and other details. The owner and developer teams of Unreal Engine 4 and Unreal Engine 5 continue in the same way. When you start Developing games, if your goals are high, and most importantly, if you plan to develop a game with high graphics, Unreal Engine 5 (UE5) may be the right choice for you.
Dozens of new ready-to-be-developed games are waiting for you with Unreal Engine 5! Are you ever interested in games developed specifically for Playstation 5 with Unreal Engine 5? In order not to miss out on such important opportunities, start developing games with Unreal Engine 5. So do you know what Unreal Engine 5 is? You can check it out right here: What is Unreal Engine 5? Of course, the most important of these is not to forget the Unreal Engine 5 system requirements.
What Company Owns Unreal Engine 5?
The creator of Unreal Engine 5 is Epic Games. As we mentioned above, the UE4 and UE5 developer teams and the idea owner are the same, but we won't know who will start developing it again in the future. However, with Unreal Engine 5, you can develop games with advanced high-level graphics and get high profits as you release them. This will be for your benefit Economically, that is, Financially.